Interface: Commercial Vehicles - Commercial Containers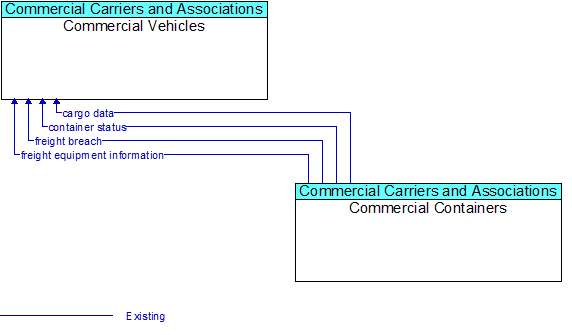 Architecture Flow Definitions
cargo data (Existing) Applicable ITS Standards
Measures associated with the cargo inside a container, like temperature.
container status (Existing)
Measures from systems on-board the container, possibly including refrigeration, shock measurement, controlled atmosphere sensing and any other systems that support special needs of the cargo.
freight breach (Existing)
Information about a breach or tamper event on Intermodal Freight Equipment which includes identity, type of breach, location, and time.
freight equipment information (Existing) Applicable ITS Standards
Container, trailer, or chassis information regarding identity, type, location, brake wear data, mileage, seal #, seal type, door open/close status, chassis bare/covered status, tethered / untethered status, Bill of Lading, and sensor status.