Interface: US CBP Inspection Administration Systems - Rail Customs and Transactions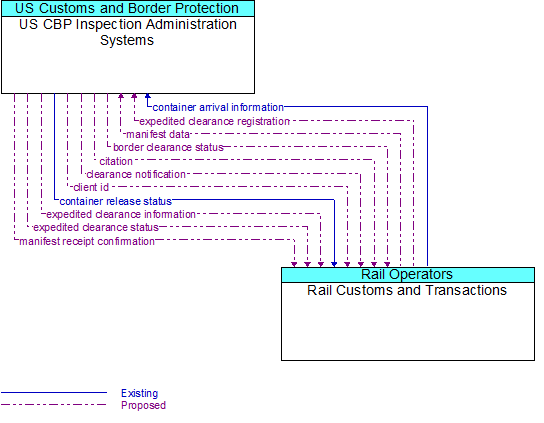 Architecture Flow Definitions
border clearance status (Proposed)
Notification regarding the crossing status of commercial freight shipment scheduled to enter the country. Includes portions of border agency and transportation agency clearance results, as they become available. Recipients may include trade regulatory ag
citation (Proposed)
Report of commercial vehicle citation. The citation includes references to the statute(s) that was (were) violated. It includes information on the violator and the officer issuing the citation. A citation differs from a violation because it is adjudica
clearance notification (Proposed)
Notification that cargo has been cleared through customs.
client id (Proposed)
A common identification number that can be used by all border and freight agencies and organizations to reference the carrier.
container arrival information (Existing)
Information on the time, location, identification and point-of-origin of a container arriving at an intermodal facility, which is provided to Customs.
container release status (Existing)
Information regarding whether a container has been released (by Customs or by the Other Intermodal FMS)
expedited clearance information (Proposed)
Includes carrier ID, importer ID, broker ID, conveyance ID, driver ID, service options, and associated information that is used to support expedited border clearance.
expedited clearance registration (Proposed)
Registration of the importer, carrier, conveyance, and driver, as applicable, for border clearance programs such as FAST, Customs Self Assessment (Canada), C-TPAT (US), PIP (Canada), ACI (Canada), and ACE (US). Includes electronic filing of forms and ass
expedited clearance status (Proposed)
Status of expedited clearance registration.
manifest data (Proposed)
Identifies Port of Entry, date, and information on carrier and goods, origin, etc.
manifest receipt confirmation (Proposed)
Confirmation that a shippers manifest has been received.