Interface: Private Road Weather Information and Maintenance Systems - MTO TIS Data Exchange Server and Archive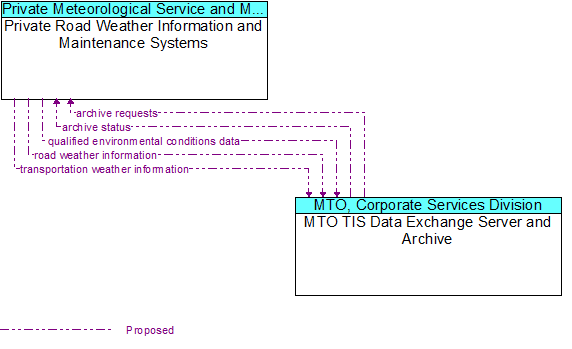 Architecture Flow Definitions
archive requests (Proposed) Applicable ITS Standards
A request to a data source for information on available data (i.e. "catalog") or a request that defines the data to be archived. The request can be a general subscription intended to initiate a continuous or regular data stream or a specific request inten
archive status (Proposed) Applicable ITS Standards
Notification that data provided to an archive contains erroneous, missing, or suspicious data or verification that the data provided appears valid. If an error has been detected, the offending data and the nature of the potential problem are identified.
qualified environmental conditions data (Proposed)
Current road conditions (e.g., surface temperature, subsurface temperature, moisture, icing, treatment status) and surface weather conditions (e.g., air temperature, wind speed, precipitation, visibility) that has had quality checks performed on it and ha
road weather information (Proposed) Applicable ITS Standards
Road conditions and weather information that are made available by road maintenance operations to other transportation system operators..
transportation weather information (Proposed) Applicable ITS Standards
Current and forecast road conditions and weather information (e.g., surface condition, flooding, wind advisories, visibility, etc.) associated with the transportation network. This information is of a resolution, timeliness, and accuracy to be useful in