Interface: Airport Intermodal Terminals - Commercial Containers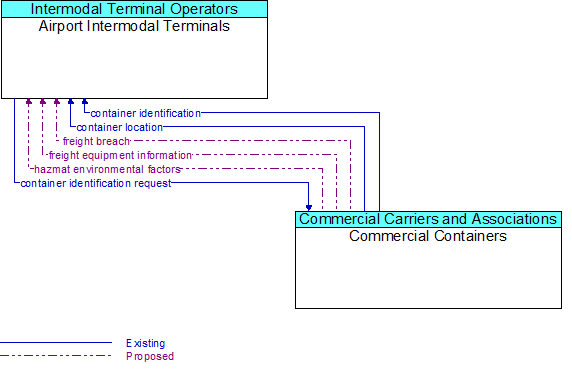 Architecture Flow Definitions
container identification (Existing) Applicable ITS Standards
A unique identification of a container that can be used to associate the container with a manifest and other important data.
container identification request (Existing)
Request to a container to provide its identification information; may require the requestor to authenticate their identity.
container location (Existing)
The location of a container, to sufficient accuracy to allow efficient container management.
freight breach (Proposed)
Information about a breach or tamper event on Intermodal Freight Equipment which includes identity, type of breach, location, and time.
freight equipment information (Proposed)
Container, trailer, or chassis information regarding identity, type, location, brake wear data, mileage, seal #, seal type, door open/close status, chassis bare/covered status, tethered / untethered status, Bill of Lading, and sensor status.
hazmat environmental factors (Proposed)
Sensed characteristics of a vehicle that are analyzed to indicate if the vehicle is carrying a security sensitive substance, e.g. detection of radiation or ammonia compounds.