Interface: Municipal Police Dispatch - MTQ Integrated Traffic Management Centres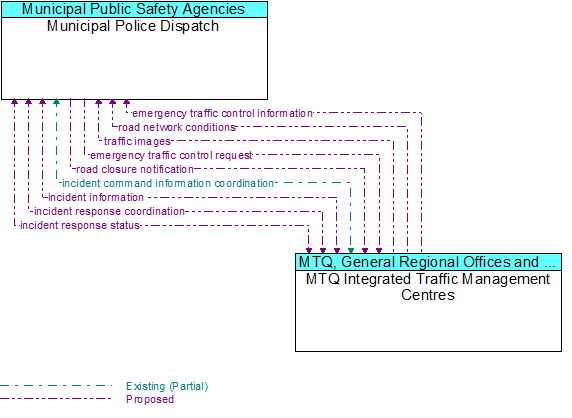 Architecture Flow Definitions
emergency traffic control information (Proposed) Applicable ITS Standards
Status of a special traffic control strategy or system activation implemented in response to an emergency traffic control request, a request for emergency access routes, a request for evacuation, a request to activate closure systems, a request to employ
emergency traffic control request (Proposed) Applicable ITS Standards
Special request to preempt the current traffic control strategy in effect at one or more signalized intersections or highway segments, activate traffic control and closure systems such as gates and barriers, activate safeguard systems, or use driver infor
incident command information coordination (Existing (Partial)) Applicable ITS Standards
Information that supports local management of an incident. It includes resource deployment status, hazardous material information, traffic, road, and weather conditions, evacuation advice, and other information that enables emergency or maintenance perso
incident information (Proposed) Applicable ITS Standards
Notification of existence of incident and expected severity, location, time and nature of incident. As additional information is gathered and the incident evolves, updated incident information is provided. Incidents include any event that impacts transp
incident response coordination (Proposed) Applicable ITS Standards
Incident response procedures and current incident response status that are shared between allied response agencies to support a coordinated response to incidents. This flow provides current situation information, including a summary of incident status an
incident response status (Proposed) Applicable ITS Standards
Status of the current incident response including a summary of incident status and its impact on the transportation system, traffic management strategies implemented at the site (e.g., closures, diversions, traffic signal control overrides), and current a
road closure notification (Proposed)
Notification that agency personnel have closed a road due to adverse weather, major incident, or other reason.
road network conditions (Proposed) Applicable ITS Standards
Current and forecasted traffic information, road and weather conditions, and other road network status. Either raw data, processed data, or some combination of both may be provided by this architecture flow. Information on diversions and alternate route
traffic images (Proposed) Applicable ITS Standards
High fidelity, real-time traffic images suitable for surveillance monitoring by the operator or for use in machine vision applications. This flow includes the images and the operational status of the surveillance system.